Miami Dating 2022 — Meet Single Girls and Mature Women in Miami. Day & Night Date Ideas.
Last updated on September 19, 2022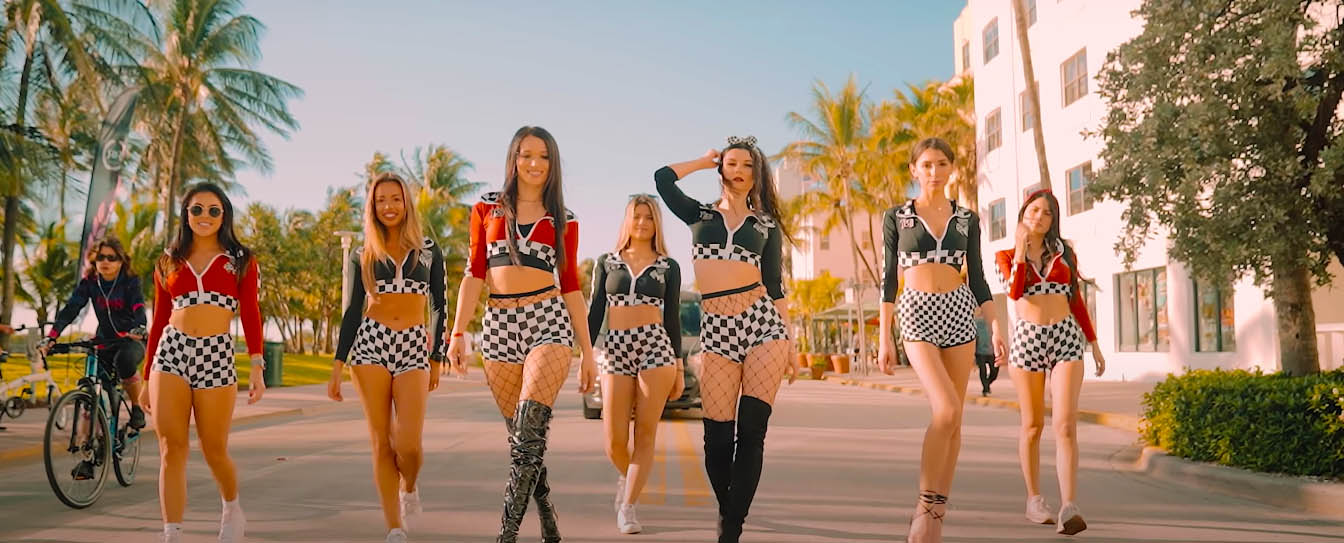 Miami, 'The Magic City, literally became a city overnight. Its past is a tale of travelers coming to the area looking for land. Once there they relied on the river for food and very quickly it turned into an urban center. Now with a population of around 500,000 people, it is the United States' 44th-largest city. Situated in the picturesque Sunshine state that is Southeastern Florida it is now known for its beautiful sandy beaches, amazing food, Cuban influences, and warm weather. It is the perfect setting to meet singles and enter into the world of dating in one of the most incredible places in the United States. Miami is the closest area of the United States to Cuba. During the Fidel Castro regime, many Cubans fled to Miami, thus bringing with them a unique and colorful culture that people from around the world look to indulge in. Maybe you will find your Cuban love? Find out more about this scenic area of the United States and then book your trip!
In the Article "Miami Dating — Meet Miami Singles"
There are many ways for you to travel around Miami that all vary in cost. Knowing how to get around is one of the most vital pieces of information when going on a date. Read on to discover the different ways you can make your way around the gorgeous area of Miami.
⏩ Buses are one of the most comprehensive transportation systems there are in Miami. They are extremely clean and air-conditioned but they do travel along some congested routes. A one-way bus fare starts at $2.25. While fares can vary depending on your start point and destination you won't pay any more than $3 for a single ticket.
⏩ Miami trolley - the best part of the Miami Trolley? It is completely free! Many runs from 6:30 am until 7/8 pm and some up to midnight depending on your location. You can try and flag one down when you see one (be aware, they will not stop if they are full), or the more sensible option is to wait at a designated stop. The drivers will happily help with where you need to depart.
⏩ Metro-Mover is a smaller version of the later mentioned Metrorail. They are completely free and run from 5 am-11 pm on weekdays, 6 am-midnight Saturday and Sunday. These are the perfect way to avoid traffic!
⏩ Metrorail - the bigger, but sometimes more complicated, brother of the metro-mover. This service stops every mile or so but, unlike its little brother, it is not free. A single trip will cost you $2.25 and you must buy an EASY card or ticket (from a vending machine) because cash is no longer accepted.
⏩ Taxis are definitely a more direct method of travel. The meters start at between $2.50 and $3.50. You will then pay, on average, $1.68 per kilometer. These are a very popular choice for people when leaving the airport. It is almost important to mention that tipping is always advised.
As you can now see there are a variety of transportation methods when visiting Miami. It is great to know how to travel around Miami but how to arrive there if traveling from further afield?
Miami International Airport (MIA) is Miami's principal airport and boasts over 1000 flights a day from over 160 destinations, both domestic and abroad. You could easily catch a flight to Miami and arrive near the center of it all. Traveling from within the United States or looking to travel to Miami on a tighter budget? Fort Lauderdale is situated just 28 miles from Miami and offers such flights.
Visiting any area, especially if you are traveling from further away, can cost a lot of money and it is wise to go anywhere very well informed about how much it will cost you, especially the basics! Below is a list of prices for different things you may need on your trip or date. Make sure to know the prices so that you don't find yourself left short!
⏩

Coffee

Even in the warmth of Miami, you may want to take your date for a coffee or fuel yourself up before a date. Prices will vary depending on whether you visit a privately owned business or a big chain coffee shop but on average you will look to pay $4.50 for a cappuccino. You and your date could meet for some much-needed caffeine before heading out to Miami's incredible nightclub scene. Get some much-needed energy at a price that won't drain your bank balance!

⏩

Beer

Heading out for the night to one of Miami's nightclubs or bars? On average a domestic beer (500ml/ Pint) will cost you $6.00 whereas an imported bottle (330ml) will cost you around $8.00. A mid-range bottle of wine will cost you around $11.50. Other drinks such as spirits and cocktails will depend on what you are drinking and where you are drinking them! Make sure to find out the prices before taking your date somewhere.

⏩ Bottle of water

As you are now very aware Miami can get extremely warm. You will definitely need to re-hydrate during your trips to the beach or even during the night! A 1.5-liter bottle of water will cost you around $1.82 in a supermarket. In a restaurant, you are looking at $1.62 for a 330ml bottle. Keep yourself well hydrated for your dating events!

⏩

Ice Cream

What do most people purchase when visiting a beach? Of course, an ice cream! You will definitely want to treat your date to a sweet treat as you walk in the shallows getting to know each other. You can expect to pay around $3.99 for ice cream. This will increase in some of the ice-cream parlors as the number of flavors, combinations, etc increases. They are definitely worth the money as they are delicious!

⏩ Meal You and your date may want to venture out for dinner. This classic date idea can range in price depending on where you choose to eat and what you order. A three-course meal in a mid-range restaurant will, on average, cost around $77 for two people (with the average range being $50-120). Take your date for a romantic meal at a price that will not require a small loan!
It is important to remember that prices can change all the time and that each venue may charge different amounts for the same product. Make sure you do a little research before venturing there.
Finding the perfect place for you to spend your visit to Miami, whether on a date or hunting for your Miami date, is extremely important. You need to find a hotel that suits all of your needs and at a reasonable price! Keep reading to find out about some of Miami's most highly-rated hotels.
Finding the perfect venue to go on your date, whether the first or fifth, is a very important choice to make. There is so much to consider! Do you want to go out to eat? Be entertained? Active or relaxed? Keep reading to discover some of Miami's best date ideas and venues!
✌ Do you and your date like to dance? Miami has certainly got you covered! Dress to impress and take your date for a dance at LIV — Night Club, Cameo — Night Club, E11EVEN — Night Club, or Nikki Beach which promise amazing drinks, fantastic music from amazing DJs, and, sometimes, some VIP appearances from the rich and famous! Looking for a more 'up-market date night out with a wider variety of music? Head to STORY, Wall, or Fifty Ultra Lounge to treat your date to a more 'posh' night out.
✌ If you and your date prefer to go for a quiet drink or craft cocktails then Miami has plenty of bars and lounges where you and your date can chat and get to know each other better. Blackbird Ordinary is full of groups of people playing life-sized Jenga while enjoying some amazing live music. Maybe you and your date are looking for a more exclusive date night. Head over to the Basement at the Miami Beach Edition. Featuring an Haute bar and late-night bowling. One of the biggest attractions in the Basement is the indoor ice-skating rink. Drink your tequila sunrises, attempt a perfect score and then whisk your date around on the ice to round off a perfect date night.
✌ Maybe you and your date enjoy spending time taking in some art. Why not head over to the Perez Art Museum Miami (PAMM)! As it stands they are asking you to reserve tickets for a time slot due to current Covid-19 restrictions. You will also be asked to wear a face-covering during your visit. While this isn't ideal for a date you can both still explore your love for art while finding out more about each other. Adult tickets cost $16 and can be reserved online. You and your date can take a walk in the spacious, outdoor Sculpture garden, explore the gift shop and enjoy a spot of lunch in the Verde restaurant and bar. This is the perfect date venue for art lovers looking to find love of their own.
✌ It could be that street art is more you and your dates thing so why not take yourselves to the Wynwood Arts District. When Wynwood Walls was opened in 2009, by Tony Goldman (founder of Goldman properties) his former warehouse became a canvas for some world-class street art. There is an entire city block, garden, indoor gallery, and studio as well as Wynwood Kitchen and Bar. The artwork changes every December and is a very popular area to visit. Admire the incredible art of local and international street artists like you and your Miami date to find out more about each other.
✌ If you and your new date are fitness enthusiasts then you could join one of Miami's many exercise clubs or classes. Join biking enthusiasts and ride through Downtown Miami, meet for a mass run with the Brickell Run Club on a Tuesday or take to the water and join in with the Miami rowing club or Miami Dragon Boat Club. You and your date can get fitter, more knowledgeable about each other, and take in some of Miami's breathtaking water views.
Miami has a plethora of possible dating venues and attractions. You will be spoilt for choice when it comes to taking your date out on a romantic rendezvous. Think carefully about the perfect venue and, in Miami, you are sure to have the date of your dreams.
Read also more tips about dating in the USA: Dating in New York, LA, Las Vegas, Houston, Settle, Austin, Phoenix, Dating in the UK: Dating in London, Manchester, Birmingham, Dating in Ireland, Dating in France.
In Miami, you only need to walk for five minutes and you will see beautiful women everywhere. Got the courage to talk to one of these amazing singletons? Going out with the express purpose of meeting someone? Below are a few of the places you might meet your Miami romance.
✌ Many people who visit Miami have one destination in mind….the beach, South Beach being one of the most popular choices. Other areas such as Hialeah and Little Havana are also popular areas for travelers to visit. Your eyes could meet as you sunbathe under the warmth of the Miami sun or your paths may cross as you swim in Miami's beautiful waters.
✌ The nightclub and bar scene in Miami is very well known and many singletons venture to these areas to try and find love. Nikki Beach, E11even, and basement are very popular choices. The Regent is considered more upscale and a bit more expensive but is still a hot spot for singletons to meet. Whichever you decide upon you are sure to meet a Miami singleton looking to be swept off her feet. Take in the beautiful Miami sunset before dancing the night away as you salsa into each other's hearts.
✌ There are many popular shopping districts in Miami and, as we all know, ladies love to shop! Take yourself over to Design District, Mary Brickell Village, Midtown, or the Bayside Marketplace for some retail therapy, and you are bound to meet a gorgeous singleton perusing the shops. It could be as simple as chatting in the queue or reaching for the same item to spark a conversation that leads to romance being discovered.
✌ It is a well-known fact that, in Miami, the party never stops! There are some amazing daytime pool parties where you are sure to find a party-loving Miami singleton looking for fun and romance. Head over to The Standard (40 Island Avenue), The Clevelander (1020 Ocean Drive), or 1 Hotel South Beach Rooftop (2341 Collins Avenue) for some of the best pool parties to find the Miami dream you have been looking for.
In Miami, you are 100% certain to find many beautiful, intelligent, and charismatic single ladies looking to find their romantic desires. Maybe you are looking for a Ukrainian lady or Slavic woman while in Miami. The Ukrainian population of Florida is estimated at 43,000 so you are sure to meet a beautiful Ukrainian woman while in Miami. One glance across the beach, one meeting of eyes across the dance floor, or one line in a shop could be all it takes for you to meet your future love.
address: 1600 Lenox Ave, Miami Beach
Rustic outpost attracting foodies with inventive Southern comfort food & bourbon bar.
address: 1450 Washington Ave, Miami Beach
Cozy neighborhood eatery with a warm atmosphere serving housemade pasta & other Italian meals.
address: 1681 Lenox Ave, Miami Beach
High-end sports-bar chain with a huge menu of New American fare & an extensive list of draft beers.
address: 1395 NW 57th Ave, Miami
Casual aviation-themed eatery lets diners listen to air traffic control & watch jets take off.
address: 11 Washington Ave, Miami Beach
Cavernous, bustling space open October-May & drawing crowds for crab, Key lime pie & more.
address: 201 Miracle Mile, Coral Gables
Upscale chain eatery serving burgers, steaks & other American fares in stylish, spacious surrounds.
address: 2005 W 4th Ave, Hialeah
The simple exterior gives way to a lively ambiance featuring Spanish-Cuban fare, drinks & karaoke.
address: 251 NW 25th St, Miami
Modern Asian-style eatery offering grilled meats & sashimi, plus cocktails.
address: 10660 NW 19th St, Miami
Counter-serve chain dishing up Southwestern staples from burritos to nachos in lively environs.
address: 9971 W Flagler St, Miami
Fast-casual chain serving chargrilled patties with creative toppings, fries, onion rings & shakes.
address: 321 Miracle Mile, Coral Gables
A rotating menu of seasonal American dishes alongside international wines in an upscale setting.
address: 500 Brickell Key Dr, Miami
Chic waterfront finds offering Peruvian & fusion fare, plus bars for cocktails, ceviche & anticucho.
address: 213 SE 1st St, Miami
Family-owned, stylish but comfortable earth-toned eatery dishing classic fare & desserts made daily.
Dos
✅ DO join a group. There are many different groups out there that can be found online to help you meet like-minded women in Miami. Maybe you like Yoga? Brickell's, East Miami, has free sessions every other Saturday. Pop down and meet your ideal exercise partner!
✅ DO show the real you. Miami women haven't got time for fakers or false stories. Be yourself and be confident. Miami women find these traits very attractive and you are sure to find love….but remember….confident not cocky!
✅ DO focus on communication. It is the most vital aspect of dating, especially in Miami. Be present when most men will be 'taking in their surroundings. Ask questions and really listen. The women of Miami will see how different you are from the other men they have met!
✅ DO be respectful. Miami may have a reputation that focuses on appearance and material goods but this does not mean you should treat a date like a possession. You will have much more success if you respect the woman you are dating and show interest in who she is, not what she looks like!
Don'ts
❌ DON'T lose focus. Women in Miami are very aware of how many other beautiful women there are around. They will know if your eyes wander so ensure you concentrate on her and not on other ladies walking around! After all, why go on a date with her if you're going to window shop!
❌ DON'T dominate the date. Miami women do not want to listen to you all night while sitting in silence. Make sure the conversation is a two-way affair and that you truly listen to everything she has to say.
❌ DON'T create a persona you think she will like more than the real you. Sooner or later she will see you for who you really are and what she sees should not come as a complete surprise! This does not mean you share every detail about yourself but be honest!
❌ DON'T drink too much! Yes, Miami may have a reputation as a party state but this does not mean that your date wants a party boy all of the time. If you get drunk she will see this as a sign of disrespect and lack of consideration for her feelings. Enjoy a drink with her without getting out of control!
Meeting a woman in a nightclub or one of Miami's incredible beaches is not for everyone. Some people are not comfortable with just walking up to someone and introducing themselves or feel more at ease getting to know someone from a distance first. Many people may be wondering why they should venture into the online dating world to find love in Miami.
Below are just a few of the positives that come with online dating in Miami.
✅ One of the biggest positives is that you can get to know each other before meeting in person. You can use this time to discover if you have similar interests, personalities, or dating goals. The conversation is key and asking questions is of vital importance in ensuring that you have found your perfect Miami singleton. This will be time well spent when you get to arrange your first date as you will already have some topics of conversation!
✅

No awkward silences on the first date. Is there anything worse? Many people feel more confident talking via emails or instant messaging, especially in the beginning. Allow yourself, and your potential date, the opportunity to get to know each other without the added pressure of looking at each other across the table!

✅

If you realize that a connection is not being made or that you are on different romantic journeys you can part ways easily and amicably while continuing your search. This is not always easy to do when dating face-to-face as letting someone down is not an easy thing to do when having to witness their reaction.

✅ Chat to more than one person without worrying about offending others. Dating more than one person in 'real life is definitely frowned upon but chatting to different people online is commonplace. Many people in the online dating world are getting to talk with numerous people before meeting face to face. Who knows? You may find a very good friend even if a romantic connection is not made. It is definitely a good idea to keep your options open before deciding upon one and online dating provides you with the perfect platform to do this without upsetting anyone!
✅ It is likely that you have very particular features/ personality traits that you are looking for in a Miami date. Online dating websites are full of singles of all different age brackets, ethnicities, and interest types. They also have a variety of different appearance types. No matter what your 'type' you are sure to find them on an online dating website. They will also help you refine your search so that all of the singletons you talk to fit your type!
So, what are you waiting for? Get yourself online, start a free trial and begin your online dating journey in Miami!
Covid-19 has been such a negative part of our lives for almost two years now and it has affected every aspect of our lives, especially dating, as we have been unable to live our lives the way we are used to. Restrictions are being lifted or eased all over the world and traveling is becoming easier and less complicated. Below is some information regarding Covid-19 that you may be interested in if you are planning a trip to sunny Miami.
⏩

Nearly all travel restrictions to the area were lifted earlier this year as over 70% of Miami's population, aged 18 or over, have had both doses of the Covid-19 vaccination.

⏩

In response to the Delta Variant, there is a new requirement in Miami and the whole of the United States. Patrons and employees are now required to provide proof of vaccination for the city's indoor dining, fitness, and entertainment venues. This would include restaurants, nightclubs, concert halls, museums, theaters (movie and performing arts), bowling alleys, casinos, fitness centers, coffee shops, and all other forms of indoor dining.

⏩

Testing three to five days after arriving in Miami is recommended to travelers that are not fully vaccinated.

⏩

To enter any part of the United States you will need proof of a negative test result taken three days prior to your flight's departure or provide proof of vaccination.

⏩

Wearing face masks is recommended although not mandatory. However, in many government facilities (public transit, Miami International Airport, and Port Miami) it is mandatory to wear a face covering.

⏩

Many venues have hand sanitizing stations for your use so that you can feel safe at all times.
The many tourist spots and popular places are keen to continue welcoming visitors at all times and are doing their very best to ensure that all visitors, and employees, are safe and have an enjoyable experience in Miami. If we work together against Covid-19 we can all help create a safer, positive environment.
So, Miami is one of the most beautiful parts of the United States and is home to some of the most beautiful singletons in the world. Whether searching for love or visiting Miami with a date you are sure to have a wonderful time and be ready to book your next visit or outing as soon as you get home! What are you waiting for? Start your romantic journey in sunny Miami now!
❤️ Is Miami Good for Singles?
To give a short answer…..yes it is! Miami has been voted as one of the best cities for singles. This means that you are sure to find a love potion in the magic city. From the beaches to the night scene Miami has everything a single could possibly want in terms of spending time on yourself or when looking for love.
❤️ Where Do Singles Meet in Miami?
Everywhere and anywhere! Miami is full of opportunities to meet another singleton! Many singles will meet at the beach as they visit with friends, eyes meeting across the gorgeous sands. Others will meet in the night scene and party the night away together. A quiet cocktail bar is another popular destination for singles to meet. Keep your eyes peeled as you navigate your way around Miami and you will find your perfect singleton!
❤️ Is Tinder Good in Miami?
It certainly is! Whether you are local to the area or visiting Tinder is a fantastic app for you to find another singleton to spend some time with. You can also use our website https://slavic-girl.com/ to find a special one who has the same interests, chat together, and later have a romantic date in Ukraine.
❤️ Does Miami Have the Hottest Girls?
Miami is ranked 4th for having the most attractive women in the United States. The locals would definitely disagree and say that Miami is number one! It is known worldwide that the women in Miami are stunningly beautiful. Take a visit and find out for yourself!
❤️ Is Everyone Beautiful in Miami?
Beauty is in the eye of the beholder! As the old saying suggests, you are sure to find what you believe to be beautiful in Miami. The population of Miami is very diverse and you are sure to find your beautiful future date.
❤️ What Do Celebrities Do in Miami?
Many celebrities either live in Miami or visit regularly for the same reasons you will visit. Many of them will want to do the same as you, go for dinner, visit the beach or head out shopping. Beyonce and Jay Z, Barbara Streisand, and David Beckham have all been spotted in Seaspice restaurant. Wynwood and South Beach are often transformed into an artistic party as the International visual arts festival visits. Celebrities such as Madonna and Ariana Grande have been spotted at these private events and the restaurants nearby!
❤️ Is It Worth Going to Miami?
Yes! Whether looking for your magic Miami singleton or revisiting with a date Miami is definitely worth traveling to. From the beautiful beaches to the happening nightlife, the shopping to the pool parties Miami is full of life and definitely, a destination must! You are sure to conjure up a wonderful time in the magic city and you will definitely book to go back!
❤️ Why Is Miami so Popular?
Miami, the magic city, is extremely popular for a few different reasons. The most popular aspects of Miami are the beaches, notably Miami Beach and South Beach. They are wonderful for their sunbathing, water sports, swimming or simply relaxing! Looking for a party? Miami is definitely the place to visit with its many nightclubs and pool parties. Let's not forget the award-winning restaurants, international arts, and sports! Miami literally has everything you could possibly want or need!