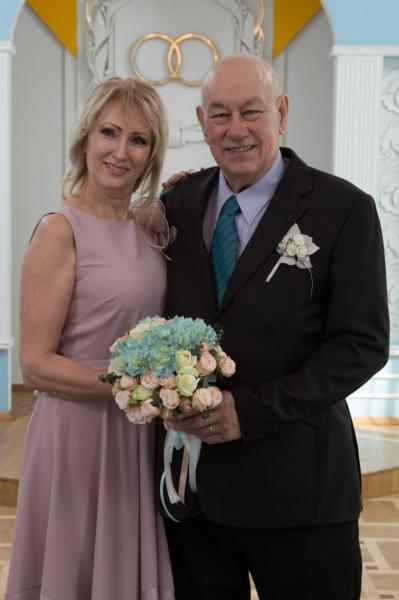 Irina started her search through the SlavicGirl Dating Agency in fall 2015. When she stepped to the agency she was a single mother of two grown twins: a son and a daughter. Both James and Irina already had some relationships that did not work in the past. But they did not give up their search and did not betray their dreams.
Their love story has started from a short correspondence at the end of November 2017. And already by the end of January 2018 they met in person. Just 5 letters bridged their dreams to a happy reality together! In his last letter before coming to Ukraine James wrote to Irina: "...I wish you a very wonderful 2018… hope all your dreams and wishes come true." And Irina replied to James: "...it was my pleasure to get your wishes…..) I believe that this New Year will bring us a lot of wonderful surprises and fulfillment of our dreams." And it really happened as a surprise to them both!
Since they met on the 28th of January 2018 it became obvious to them that they have much in common: the same life's goals, interests and attitude to life. Their first meeting not only proved their chemistry, but they also found common language almost immediately, despite the fact that Irina did not know English and James could not speak Russian.
Coming to England it is not an easy task. So, after they met for the first time in Nikolaev they traveled together to different counties to know each other better. Irina got a rejection when she applied for her first visa to England. After that they used another agency to apply for a visa according to the SlavicGirl recommendation, their second attempt to get visa was successful.
James showed himself as a true man: supportive, persistent, very caring, generous, kind, cheerful and romantic. He came with Irina to Kiev when she was applying for visa to support her. Irina highly appreciated features of her lovely admirer. Also she was happy to feel as a little girl, who can rely on him in all things, as well as to be his adorable queen who was spoiled by his attention, pleasant surprises, gifts and flowers.
This lovely couple encourages all men and women, who are still in search for their love, to stay true to your dreams. Don't lose heart when you face difficulties in dating process and never give up!